Success Stories
Business in Profile: Skagit Farmers Supply
Skagit Farmers Supply is a home-grown success story of a cooperative that has sustained our region's strong agricultural heritage for generations. A resource for commercial growers and rural living enthusiasts, Skagit Farmers Supply provides the goods and services to grow productively in the Pacific Northwest. EDASC recently met with General Manager Tom Boland to learn more about the history and future of this 83-year old cooperative.
Tell us about Skagit Farmers Supply: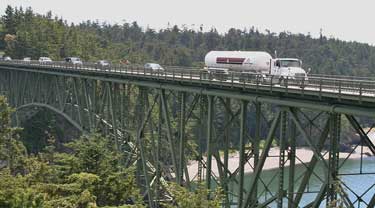 Skagit Farmers Supply is a cooperative, which means our members own our company. We have farmer producer members who farm in Skagit, Snohomish, Island and Whatcom Counties and other patrons who purchase at our Country Stores or buy fuel and propane from our energy department. All patrons share in the earnings of the co-op, while our farmer members can also be involved in co-op governance. We support local agriculture with all four of our business units. We have two agronomy plants in Skagit County located in Burlington and Conway. Our energy department delivers fuel and propane and we are a market leader in propane delivery. We operate 13 Country Store branded retail sites in Washington, Idaho and Montana. Our fourth business unit is a wholesale distribution and milling department operated out of Spokane. We also deliver many of the items we sell in our stores to independent dealers and other cooperatives in a seven-state region.
How many employees work here in Skagit County?
We employ 150 out of our 350 employees in Skagit County.
Who are your primary customers?
Each of our business units has a different core customer. For our agronomy department, we have large-scale farmers fully involved in production agriculture, but we also have an increasing number of rural living enthusiasts that we reach through our agronomy department and our stores. We can offer help in everything from raising animals, installing fences and growing crops. It really is part of the sustainable life that many people are attracted to. Most of our bagged fertilizer is sold in the Hawaii market, and we also sell to Alaska and through our retail and wholesale departments.
Our energy department offers a high-level of service to the many homeowners that heat with propane heating oil, as well as a core group of farmers in Skagit Valley. In our retail stores, we have a large selection of pet food and supplies and our busiest days of the year revolve around our "Pet-a-Palooza", an event held at each of our Country Stores highlighting our products for furry four-legged family members. Other core categories are ranch & farm, clothing, hardware and lawn & garden. Our AFCO wholesale distribution and milling department sells to stores much of what we sell to consumers. We also bag LMF premium horse feed and our proprietary Aslin Finch feed.
Share a recent success story:
We really believe in employee engagement and training so we can better serve our customers' needs. Recently we had five employees attend Disney's customer service training in California and we also sent two agronomists and our credit manager to the Kansas State Cooperative Center training "Building Trusted Relationships."
We also opened a store in Oroville, Washington recently. With our retail support group and distribution, we can open stores in key markets outside of our traditional geography and sell our own manufactured fertilizers and feed.
Where do you see growth opportunities, both in Skagit County and more broadly?
We blend organic fertilizer in Conway and the growth of organic and sustainable crops has grown dramatically. We're at the forefront of that with our organic blending, with the many progressive actions our farmers are taking, and with our staff that is trained in organic growing solutions. Demand has caused us to increase our capacity in organics a few times. With our new agronomy center being built in Burlington, it will allow us to greatly expand our organic capabilities yet again at our agronomy center in Conway.
We recently expanded our relationship with NACHURS® liquid fertilizers and we're now distributing that proven product line in greater Pacific Northwest Region. We see an opportunity to grow that as it works quite well with many specialty crops grown in the Pacific Northwest.
What do you see as your businesses' competitive advantage that sets it apart in your industry?
Our service and our infrastructure are in place. With rail sites and up-to-date technology and equipment, our skilled staff has the tools they need to deliver a high level of service. Our board of directors thinks generationally and makes decisions in consideration of what the next generation will need to be successful. Another advantage we have in being a cooperative is that we have a strong focus on our communities. Our board of directors and our employees live and work in local communities and supporting local communities is a large part of our cooperative values.
Do you have an upcoming project or plan that you'd like to share with EDASC Investors?
We have a state-of-the-art agronomy plant under construction in Burlington. The plant will have an automated bagging system, more storage of crop nutrients and faster blending capabilities to support our growers during the critical spring planting season. Construction is scheduled for completion in summer 2017 and we're excited to have this new plant to support the next generation of growers in the Skagit Valley.
Skagit Farmers Supply's Conway Agronomy Center & the new Burlington Agronomy Center under construction.