EDASC Now Hiring Communications / Community Engagement Specialist
Monday, December 17, 2018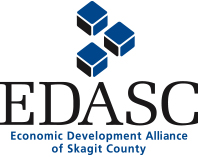 Communications/Community Engagement Specialist
The Economic Development Alliance of Skagit County is located in the heart of Mount Vernon, Washington. We are progressive and passionate about our intentional practice of improving economic well-being and the quality of life through a broad range of collaborative efforts designed to attract, create, and retain jobs and to foster a resilient, sustainable inclusive economy.
Our entrepreneurial team is looking for a doer, a technical expert who is a self-starter and an engaging people-person. You are good at relationship building, an Experienced Communications/Community Engagement Specialist with a diverse skill set, including a record of accomplishment in dealing with the public and sales, a secure knowledge of digital marketing and the social media landscape with a proficient understanding of analytics and graphics. You will need to be able to use analytics to track success and inform future strategies as well as to write professional content and create compelling visuals. The best candidate will intuitively understand how to interact positively with our team and how to establish productive relationships with internal and external stakeholders. You will need to be energized by your job, a passionate, self-motivated pacesetter as well as a team player. If you are resilient, creative, curious, empathic, dedicated to overcoming obstacles and persevering, relish change, thrive on ambiguity and are able to push yourself beyond your comfort zone to seek new challenges, this is the job for you.
Preference will be given to candidates with at least two years' experience and a Bachelor's degree in Communications, Journalism, Public Relations or a related field.
A proven background and experience in this arena and exceptional people skills could possibly replace the expectation of formal, academic training.
A portfolio representing your writing, digital marketing and graphic talents is required, including evidence of your proficiency in multiple software applications and services.