Support Local Businesses in Skagit County on Small Business Saturday
Monday, November 22, 2021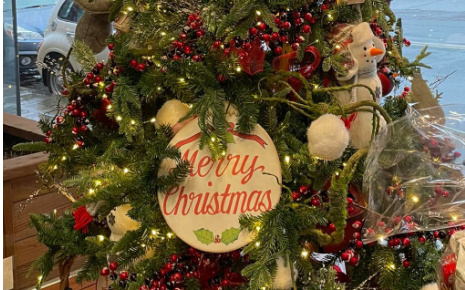 Saturday, Nov. 27, is Small Business Saturday and it's the perfect time to shop local and support Skagit County's many unique stores, restaurants, and businesses. From shopping in vibrant Mount Vernon, Skagit County's largest city, to visiting boutiques in Burlington's historic downtown, to strolling in the smaller cities like Anacortes and Sedro-Woolley and visiting their eclectic stores, there are so many wonderful options when shopping local in Skagit County this holiday season.
Many favorite holiday memories come from shopping at small downtown stores, where shop owners say hello and help you find the right toy or gift. It's always special meeting the artisan behind the handmade goods, or discovering what makes a particular item a must-have this holiday season. Small Business Saturday is an opportunity to recognize local small businesses for the positive contribution they make to our lives – during the holidays and all year long.
Why We Support Local Businesses on Small Business Saturday
Shopping at small businesses has a positive ripple effect on the community, according to the Small Business Economic Impact Study, which finds Small businesses keep the majority of their revenue within the community. Every dollar spent at a small business, supports another 50 cents in local business activity. As an added incentive, every ten jobs created at a local business support an additional seven jobs within the community (Small Business Economic Impact Study, 2018). These are compelling reasons to direct holiday spending away from online shopping and into the small businesses that add vibrancy and character to the Skagit County community.
According to the National Federation of Independent Business, the support small businesses receive on Small Business Saturday helps them start the holiday season strongly, and raises awareness about the benefits of shopping locally. This is critical since the majority of small retailers report generating most sales during the holiday season. Nationally, the campaign is working. From 2010 to 2018, $103 billion in sales was generated for small businesses on Small Business Saturday (National Federation of Independent Business, 2019).
Shop Unique Artisan Holiday Markets in Skagit County on Small Business Saturday
There are two amazing markets in Skagit County to visit on Small Business Saturday, both filled with unique handmade crafts by local artisans. These markets are the perfect chance to find personal, meaningful gifts for everyone on your list.
Holiday Art Sale at the Depot (The Depot Arts and Community Center, 611 R Avenue, Aanacortes) runs from 10 a.m. to 4 p.m. for one day only on Saturday, November 27, and features eight local NW artists and their incredible, one-of-a-kind, handmade goods including jewelry, drawings, clothing, and so much more.
Women's Work International (St. Paul's Episcopal Church, 415 South 18th Street, Mount Vernon) is open for one day only on Saturday, November 27, from 11 a.m. to 5 p.m. and will have many handmade, fair trade gifts, toys, home items, clothing and accessories. The items come from countries around the world, and support women artisans and co-operatives locally and internationally.
Special Events on Small Business Saturday and Throughout the Holiday Season in Skagit County
There is so much going on in Skagit County this Small Business Saturday and all during the holiday shopping season.
Mount Vernon
Mount Vernon is celebrating Small Business Saturday with Santa's elves, live music, in-store events, and holiday cheer. The Mount Vernon Downtown Association and Mount Vernon Chamber of Commerce are hosting Shop Local and Win This Holiday Season, with more than 25 local businesses participating. Shoppers can fill a punch card for a chance to win weekly prizes from Mount Vernon businesses. With a stamp received for every $5 spent, one the card is filled with 10 punches it can be returned to Skagit Running Company (301 W Kincaid, Mount Vernon) or Tri-Dee Arts (215 S 1st, Mount Vernon). Christianson's Nursery & Greenhouse (15806 Best Road, Mount Vernon) is holding its Annual Holiday Tea and Visit with Father Christmas from 10 a.m. to 3 p.m. They are also offering pre-registration for independent wreath making, which is do-it-yourself using their machines from 9 a.m. to 4 p.m. until December 23. Back for its 33rd year, the Festival of Trees in Mount Vernon features 30 tall trees and 18 tabletop trees exquisitely decorated in all kinds of themes and motifs throughout downtown Mount Vernon until November 28.
Anacortes
On December 3, join the Anacortes Chamber of Commerce for the Anacortes Coastal Christmas Tree Lighting, which will have live music, hot cocoa, and a visit from Santa Claus. On December 4, there are two more great holiday events: Breakfast with Santa (pre-registration required) and the Walk with Santa Parade at 11 a.m. From December 3 to December 17, join the fun with Jingle All the Way, a digital scavenger hunt in downtown Anacortes. Registration opens December 1. The scavenger hunt is sponsored by AAUW and will fund STEM scholarships.
Sedro-Woolley
On December 4, the Sedro-Woolley Ugly Sweater Dash will be held, which is an annual 1-mile run through downtown, with racers encouraged to wear their ugliest holiday sweaters. Prizes will be awarded for ugliest sweater/costumes and for fastest runners. The Chamber of Commerce is hosting multiple community events during 12 Days of Christmas, Keeping the Joy in Christmas, beginning on December 4, with a tree lighting and parade. Other holiday festivities include a raffle and scavenger hunt from December 13 to December 24, Santa Breakfast, Santa at the Museum on December 11, and a business and home decorating contest.
Burlington
The Chamber of Commerce is spreading holiday cheer with a Kids Holiday Coloring Contest through November 29, and the Burlington Holiday Business Decorating Competition from December 1 to December 16. A favorite holiday tradition, the Burlington Annual Tree Lighting and Community Caroling is on December 5 at 6 p.m., with hot cocoa and cookies. Kids are invited to come to the Visitor Information Center at 5 p.m. to create their own instruments for caroling.
La Conner
La Conner is celebrating Small Business Saturday with Spend $50 to Win, shoppers just need to fill out a Frequent Shopper Card, spending $50 or more to enter to win, and return the card to the Chamber of Commerce office at 108 Commercial Street. The Community Tree Lighting will be lots of festive fun on December 4.
Concrete
Concrete is celebrating the holidays with "Holiday Lane," an annual community celebration combining lights, music, treats, films, and favorite characters, especially Santa. The theme this year is "Nowhere like Gnome" and there will be a special Find The Gnomes challenge starting on December 1. There is also a decorating contest through November 30. On December 4, Santa arrives by mule-drawn wagon at the Town Center, followed by the Community Tree Lighting, with music, treats and good cheer.
Join Us in Supporting Local Businesses on Saturday, November 27 (and throughout the year!)
Small businesses add character to Skagit County and are an incredible local resource. They create jobs, strengthen the economy and create unique holiday experiences and memories for our families. Join us in supporting them by shopping small on Saturday, November 27, and throughout the year!
References
American Express. (2018, November 13). Small Business Economic Impact Study. Retrieved from American Express: https://about.americanexpress.com/press-release/another-reason-to-shop-small-on-small-business-saturday
National Federation of Independent Business. (2019, November 18). The Influence of Small Business Saturday. Retrieved from National Federation of Independent Business: https://www.nfib.com/content/news/alabama/the-influence-of-small-business-saturday/